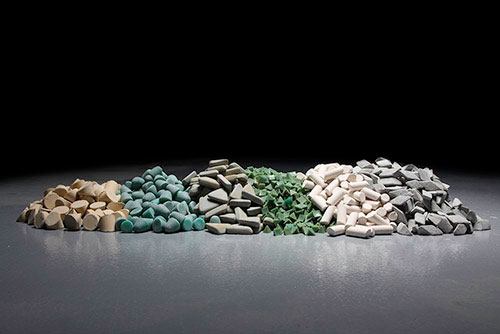 General use of Raytech Media types
---
For general use, round, oval and cylindrical media shapes are preferred. Round-surface medias wear well and have less chance of lodging in workpieces than sharp-edged medias. Round and cylindrical ceramic media also tend to chip less during the vibratory cycle.

The smaller media has more contact with parts' surface area than larger media and produces a smoother, more attractive finish. Finishing times are longer for small media polishing because small media requires gentler processing. Mostly used for fragile workpieces.

Smaller sized media (under ¾") gives a slower cut, smaller break at the edge, and a finer surface.

The larger media produces a rougher surface, but lends well to a more aggressive grinding action on the workpiece. Larger media provides a faster removal of burrs and is more effective for radiusing sharp edges.

Larger sized media gives a rapid cut, but a coarser surface and more rounding of the edges.
---
MEDIA MATERIALS
Ceramic Media is used for grinding and polishing of hard metal workpieces such as steel, stainless steel or titanium. It is made of a ceramic binder and an abrasive grit. Use for general pupose polishing, light and heavy deburring, faster deburring of a workpiece and aggressive removal of metal on a workpiece.
Ceramalite Media, a ceramic-plastic blend, is used to produce a finer finish than ceramic media and a brighter and faster finish than plastic media.
Porcelain media is used for fine grinding and produces a high gloss finish on the workpiece.
Plastic media usually has a polyester base, and is generally used for softer metals such as aluminum, brass and zinc workpieces. It will produce a very smooth finish, but very little shine.
Plastic media is excellent when preparing the workpiece for anodizing. Plastic media does not discolor metal and does not peen over burrs. It is generally 30% lighter than ceramic media. Use for general metal removal, prepaint or preplate finishing polishing.
Steel media is made of hardened carbon and stainless steel and is used to deburr steel workpieces and for polishing of stainless steel. Can also be used on aluminum. Steel media has excellent burnishing capabilities when used with a burnishing compound. (Raytech's Compound M)
Corn Cob or Nut-based Medias are mostly used to produce a high gloss finish on stainless steel, aluminum and other metals. A polishing paste may need to be added.
MEDIA SHAPES
Cones are designed to deburr into remote areas on the workpiece without lodging. Will wear extremely well since there are no sharp edges. A good media for workpieces with holes.
Angle Cut Cyclinders improve finishes and reach into remote areas of a workpiece. The greater angle cut of the media (22, 45 or 60 degrees) will reach recesses, holes and remote crevices with greater penetration. Use this shape to burnish, polish, lightly deburr and to remove loose abrasives on the workpiece. Best to use on concave surfaces, rounded areas and workpieces with holes.
Pyramids combines various deburring surfaces of other media shapes to provide the best cutting action. This shape is designed to reach into holes and slots without lodging in the workpiece.
Triangles are a general purpose mildly abrasive media.This shape allows the maximum surface contact while potentially eliminating the media lodging into the workpiece. Their uniform shape is maintained throughout the life of the media itself. Excellent for slotted areas on a workpiece and reaching into corners. It provides a uniform and effective finish.
Polyhedrons (a 5-sided triangular pyramid) Offers excellentanti-wedging characteristics that reduce or eliminate lodging. This shape media will wear slower and thus be a very efficient media shape.
V Cut Cylinders often in a wedge shape, are a very efficient media. A unique shaped media that eliminates many lodging problems. Will reach hard-to-finish corners, slots and angles on the workpiece




MEDIA USES AND RESULTS
DeburringUse Ceramic with aggressive tumbling action
Polishing Use Walnut shells or Porcelain media
Achieve a dull finish Use Ceramic media
Achieve a smooth but not shiny finish Use Plastic media
Removing orange peel lookUse Ceramic with aggressive tumbling process
DIFFERENT WORKPIECE MATERIALS AND THE GENERAL TYPE OF MEDIA USED

Stainless Steel/Steel Ceramic Media is usually best
Cast Iron Ceramic Media is usually best
Aluminum Plastic Media is usually best
Brass/Soft MetalsPlastic Media is usually best
Plastic Plastic Media is usually best
PLASTIC MEDIA
Brown is a medium cut
Greenis a light cut
White is a very fine cut
RAYTECH INDUSTRIES
Division of Lyman Products Corporation
475 Smith Street
Middletown CT 06457 USA
The suggestions and data in this bulletin are based on information we believe to be reliable. They are based on good faith, but without guarantee, as conditions and methods of use of our products are beyond our control. Rev July 2018