TV-10 Professional Rock Polishing Kit (NO DRAIN)
TV-10 Professional Rock Polishing Kit (NO DRAIN)
---
TV-10 Stone Finishing Kit
Comes in 115V (Domestic)
10 " bowl capacity is .10 cubic feet
A must for professionals
Durable & simple to use
Includes one bowl and all grits
Noise Level 82db
Heavy duty drive & suspension
Has noise reducing lid
Smoothing & polishing of rocks & shells
CE CERTIFIED

Rated Horsepower: 115v-0.07
Replacement parts may be ordered or you may contact Customer Service for a factory repair quote and RMA number
CLICK HERE FOR REPLACEMENT PARTS FOR TV-10
(Stones/rocks are not included in the kit)
Please be certain you have selected the correct voltage for your location. United States typically uses 115V.
TV-10 Stone Finishing Kit 
Thousands of satisfied customers testify to the durability and simplicity of the Tumble-Vibe 10. Mated with a spare bowl and a GSH-2 Stone Finishing Kit, this is a must for any professional. The kit comes complete and ready to operate with a motorized base, one bowl, clear lid, two rubber nuts, and all the grits necessary for accomplishing the grinding step through the final polish step of most gemstones.
The four steps that are included are Silicone Carbide (100/120) – rough grind, Silicone Carbide (700F) – fine grind, Iolox 50 – pre-polish, and Raybrite TL - polish.
This dynamic compact system handles many applications. CE
The working capacity of the Tumbler-Vibe 10 is approximately .10 cubic feet or approximately 6 pints, which also equates to a holding weight of (8) pounds
Your new Raytech starter kit is useful for a wide variety of finishing applications. Some of these include grinding and polishing of baroque gemstones from rough chips, smoothing and polishing preformed cabochons and small slabs and polishing seashells.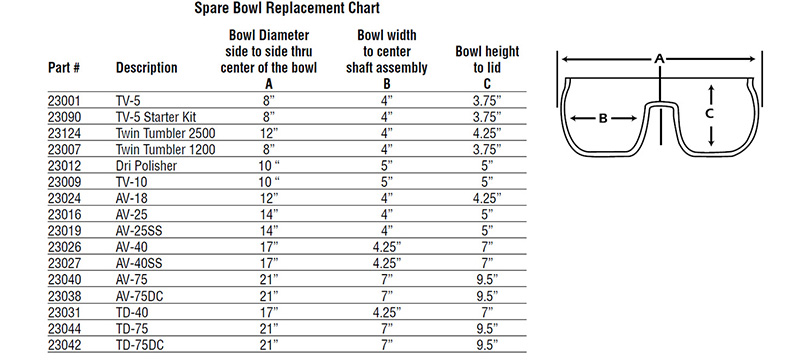 ---

WARNING
: This product can expose you to lead, which is known to the State of California to cause cancer, birth defects, or other reproductive harm. For more information go to
www.p65warnings.ca.gov
---