TUMBLE DUMP 75DC 115V
---
Tumble Dump 75 w/Drain Chute
Comes in 115V
21 " bowl capacity is .75 cubic feet
Has a discharge port
Designed for heavy duty use to deburr or polish
Features adjustable amplitude
Deburring metal stampings and machined parts
Descaling metal castings
Cutting radii on sharp edges of metal parts
Polishing metal and plastic parts
Features tumble dump tilting
Rated Horsepower: 115v - 0.38
Replacement parts may be ordered or you may contact Customer Service for a factory repair quote and RMA number
CLICK HERE FOR REPLACEMENT PARTS FOR TD-75(DC)
Please be certain you have selected the correct voltage for your location. United States typically uses 115V.
Tumble-Dump™ 40, 75 & 75 DC
 These models incorporate all the features of the Adjusta-Vibe models with one addition: Raytech's patented Tumble-Dump tilting plate. Discharge port on TD-75DC only.
Shipping weights and volumes are as follows:
TD-40, 56 pounds, 5.06 cubic feet, 18" x 27" x 18";
TD-75 & TD-75DC, 73 pounds, 9.18 cubic feet, 23" x 30" x 23".
TECH TIP  TD- Tumble Dump Feature
Raytechs's Tumble Dump models feature a built-in hinge system that allows the parts and media to be easily removed from the machine. This saves time and money by eliminating the tedious task of unloading and separating by hand.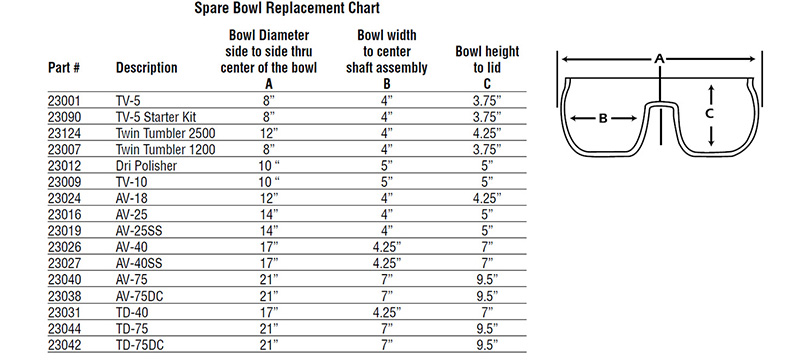 ---

WARNING
: This product can expose you to lead, which is known to the State of California to cause cancer, birth defects, or other reproductive harm. For more information go to
www.p65warnings.ca.gov
---
More Information

| | |
| --- | --- |
| Part Number | 23042r |
| Motor | 115V 60Hz 2.5 Amps 287W |
| Best Use | Deburring metal stampings and machined parts |
| Helpful Hint | See Tech Tips |
| Unit Weight | 73 lbs |
| Pack Carton Size | 9.18 Cubic Feet |
| Box Measurements | 23 x 30 x 23 |
| Bowl Capacity Size | .75 cubic feet |
| Bowl Diameter | 21 Inches |
| Bowl Height To Lid | 9.5 Inches |
| Bowl Width To Shaft | 7 Inches |